Peruvian Collection Pure Alpaca from Elann, in Dusty Rose (2 balls) , Chocolate Truffle (1 ball), Dusty Teal (8 balls) and Wisteria (8 balls):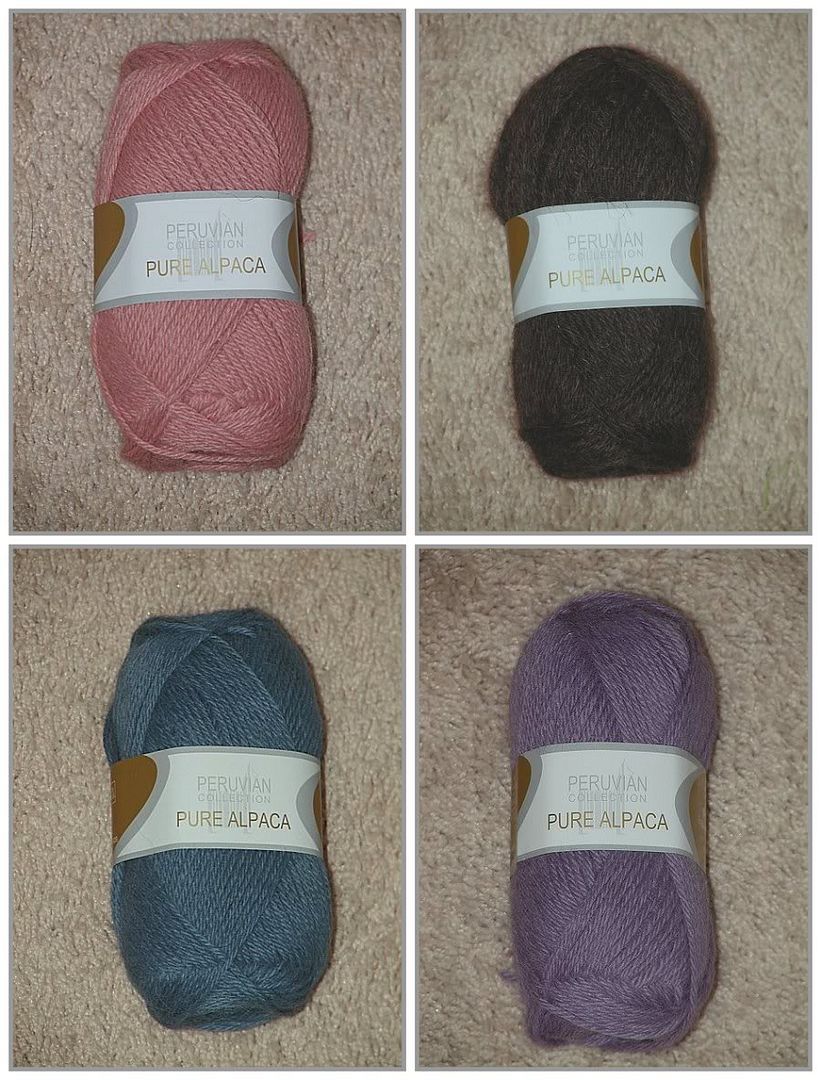 Again, I was "forced" into buying because a color I wanted (The Wisteria) was running out. The Dusty Teal is destined to be Cozy from knitty for my grandma. The Wisteria (have I mentioned this is just about my favorite color ever), a Cozy for me.
The Dusty Rose has already been made into a scarf for my SIL (I'll show pictures after I wash and block it). The Chocolate Truffle... well, I had originally thought I might use it as the ruffle on my SIL's scarf, but when I got it, I just didn't like it that much. It had lots of light hairy bits in it, and I just didn't think it looked that good, so that idea was scrapped, and the poor little ball is relegated to the status of swatching yarn.
I also got some Rowanspun (ROWAN!) 4 ply in Jade (10 skeins):
Jessica had mentioned a big sale on this ($19.99 for a bag of 10, with free shipping... this stuff normally went for around $5.50 a skein,), and as I never get to knit with anything Rowan, because it's so pricey, I bought some (they only had one bag left in this color, or I would've bought a second bag).
Each skein is 162 yards, and it's rather thin yarn... I'd been thinking it was DK weight, but at 26-28 stitches per inch, it's fingering weight. I was originally planning on making the Cul-de-Sac vest, like Bron did, out of it, but this vastly different gauge means there's no way it's going to work for that. Now I'm at a loss as to what to do with it. I can't get more... at least not much more (it's discontinued, so it's not readily available, and the best price I've found online is $3.85/skein), and any more I get is likely to be of a different dye lot. I searched through elann's pattern section, and it looks like what I have (1620 yards) MIGHT be enough for a short sleeved sweater (might, because I'm tall and would have to lengthen most any pattern), but a vest is more likely all I'd be able to get out of what I've got.
Does anyone have any suggestions for me for something I could make with it? I could really use some help. It doesn't HAVE to be clothing (although I'm hoping to come up with some way it could be).

(Click on the extended entry for puppy antics)
I carefully styled the Rowanspun to take an interesting looking picture. I took the picture, and then went into the office to load the pics up on to the computer to see if they would be acceptable. I did want to go back and try again, so I loaded the card back up into the camera, and headed back into the living room for another go, when I noticed this:
Apparently, someone had a different idea about how the yarn should be laid out to make a pleasing composition. I wonder who that might be:
Funny... you'd never guess by this pose that she might have had anything to do with it. It's pretty much what she was doing when I left (which is why I dared walk away from the yarn), and this is exactly how I found her when I returned. The girls' said they didn't touch it, my son was upstairs doing homework (and I can't imagine him caring about the yarn enough to want to touch it), and I did not notice Zhaan go into the living room (although that might be possible).
Little Sneak! I'm on to you!
At least she didn't ruin it (and yes... I have a story to tell about THAT, too).