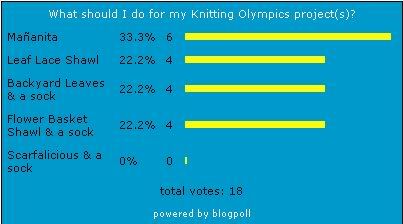 Above are the final poll numbers. Mañanita did come out ahead, but in the end, I'm not going to do that as my Knitting Olympics project. Partly because I've decided I really want to work on a sock. After sticking so single-mindedly to the thrummed mittens, I think having a second project to turn to when I'm sick to death of the first, or to look forward to working on if I make it to a goal line on the first will really help me... and did I mention... I really want to work on a sock.
As for which project I'm going to do... The Flower Basket Shawl was an early favorite in the polling, and what totally tipped the scales in its favor was that Judy of Dragonflyknits said she was going to do that as her project, and wanted some company.
I'll be making it elann's Peruvian Collection Baby Silk... in Lotus Blossom and Aubergine:
The picture is not all that great, but I think you can get the gist of it. The FBS calls for 2 strands of laceweight held together. I hope the two shades give a pleasant mottled effect, without obscuring the lace pattern, like variegated yarn does. Only time will tell, though.
And for the sock, I'll be doing the Lacy Scallops sock... same yarn, just bigger needles... and hopefully, the picot cast-on will go better this time, too (last time, I think I may have done an extra round after the k2tog, yo row, so it flared out weirdly).
I've added all my Olympic buttons to my sidebar... the one for Team CO is a link to the Team CO blog.